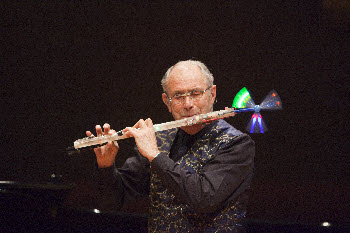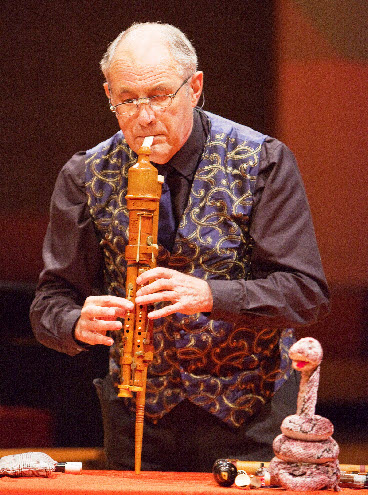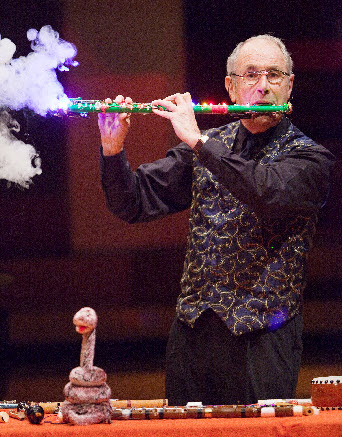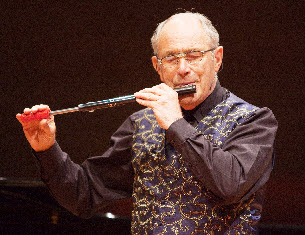 Carnival DVD and Recital CDS.
The Carnival Concert DVD is no longer available. The final Carnival Concert concert was in Switzerland in 2016.
Worldwide newspaper reviews of The Carnival Concert:
'A comic, musician and magician rolled into one. One of the wildest programs I've ever seen...a performance which defies description with flutes bursting into flames...not since Victor Borge have I experienced such a mind boggling blend of artistry and inspired nonsense' - Florida News Journal, USA.
'The performance was extraordinary....a prodigious musicality as well as a consummate humorist'. ..- Waterloo Courier, Cedar Falls, USA
'The whole evening went off with such extremely infectious good humour that there was simply not a dull moment' - West Sussex Times.
'...his witty repartee and performance on every conceivable flute was brilliantly funny and brought the house down!' - PAN, British Flute Society
'...Wye is a fantastic musician and magician in one!' - Nice Matin, France.
'...a spectacular presentation of music, magic and humour' - El Tiempo, Ecuador
'...the performance was slick, highly musical and utterly hilarious - an uproariously comical evening... it was easy to overlook the great skill and musicianship involved' - Frankfurter Allgemeine Zeitung, Germany
'..as well as demonstrating divine skill and technique by changing instruments so rapidly, he had the audience in hysterics at various stages of the performance..' South Australian Flute News
'…a musician of great ability..' New York Times, USA
The countries and the number of times the Carnival Show has been performed:- Alderney, Channel Islands 1, Australia 14, Austria 2, Belgium 1, Bermuda 1, Brazil 1, Canada 5, Croatia 1, Czech Republic 1, Denmark 1, Ecuador 1, Finland 1, France 7, Germany 4, Great Britain 47, Greece 1, Guernsey 2, Hong Kong 3, Isle of Man 1, Italy 13, Japan 10, Jersey 2, South Korea 1, Mexico 2, The Netherlands 6, New Zealand 2, Norway 1, Peru 1; Poland 1, Portugal 2, Moscow, Russia 1, Sark 1, Slovenia 1, Spain 2, Sudan 2, Sweden 2, Switzerland 3, Thailand 1, Taiwan 4, Tasmania 1, Trinidad 1, United States 23. Total: 178 performances.
'This highly amusing version of The Carnival of Venice is brilliant and witty. It is outstanding in every way' Sir James Galway.
* Jazz Arrangements for 5 Flutes
Arrangements for 5 flutes (alto fl. and picc) with bass and percussion (or piano)
To listen to these pieces online played by The BlueBelles:
Opus 1a https://youtu.be/6V3RAnIWOmg
Lullaby of birdland https://youtu.be/cWj1FCr2nVU
Smoke gets in your eyes https://youtu.be/vjth-5AQdzI
Arranged by Trevor Wye and recorded by The BlueBelles in Japan on a CD: Opus 1A:-
The first five pieces are printed but te last one is only in manuscript. The complete set is £35.00 Each contains a score, optional piano part, flute parts, bass and, where included, percussion.
Photos below by Carla Rees at BFS Convention, 2010